If you haven't started using this for reviewing your web site's stats (are you crazy?!?), you should. Immediately. It used to be called Urchin and cost a small fortune. Now it's free so there's no excuse to be suffering along with that old AWstats anymore.
After some digging, I found a decent UPS (Uninterruptible Power Supply) that should keep your computer, cable modem, router, monitor and maybe a USB hub up and running during the next power outage for at least 30 minutes. It has a max battery run time of 170 minutes under minumum load and has gotten very good reviews at Newegg.
Yup, it supports Windows, Mac and Linux.
You can pick it up here (click the image below):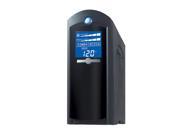 CyberPower Intelligent LCD Series GreenPower UPS CP1350AVRLCD UPS