When it's time to move to a new hosting company, many questions inevitably arise. In this post I hope to answer a few of those questions, especially the more frequently asked and important ones.
Which Hosting Plan Should I Choose?
The hosting plan you choose will mostly be dependent upon the amount of storage space you need and how much processor power your website requires. Storage space is determined by a combination of both your website files and all of your e-mail in all of your e-mail accounts. So, if your website takes up 1 GB of space, and you have three e-mail accounts each using around 300 MB of space, you would need at least 2 GB of storage space in the new hosting account.
However, since e-mail accounts are always growing larger and websites that are active are also growing larger, you need to accommodate that growth by purchasing at least twice as much storage space as you are currently using, preferably a little more.
Most folks will be able to get away with 5 GB of total storage space in the beginning. (This is the Standard Plan at Liquid Web.) It doesn't hurt to have at least 10 GB of space if you know that you get a large volume of e-mail and you plan to be adding lots of photographs and videos to your website which aren't hosted on a separate server.
How Much Space Does My Account Use?
If you're using the cPanel admin interface (ICT customers are) you can quickly find out how much space your entire account is currently occupying by logging into your account and looking at the left hand column of the screen a little below the middle of the page—look for "Disk Space Usage".
This number will give you a good starting place for determining the amount of space you will need with your new hosting company. In the illustration below, you can see that my account is currently using approximately 3GB out of my total quota of 10GB of storage space (9.77GB to be exact).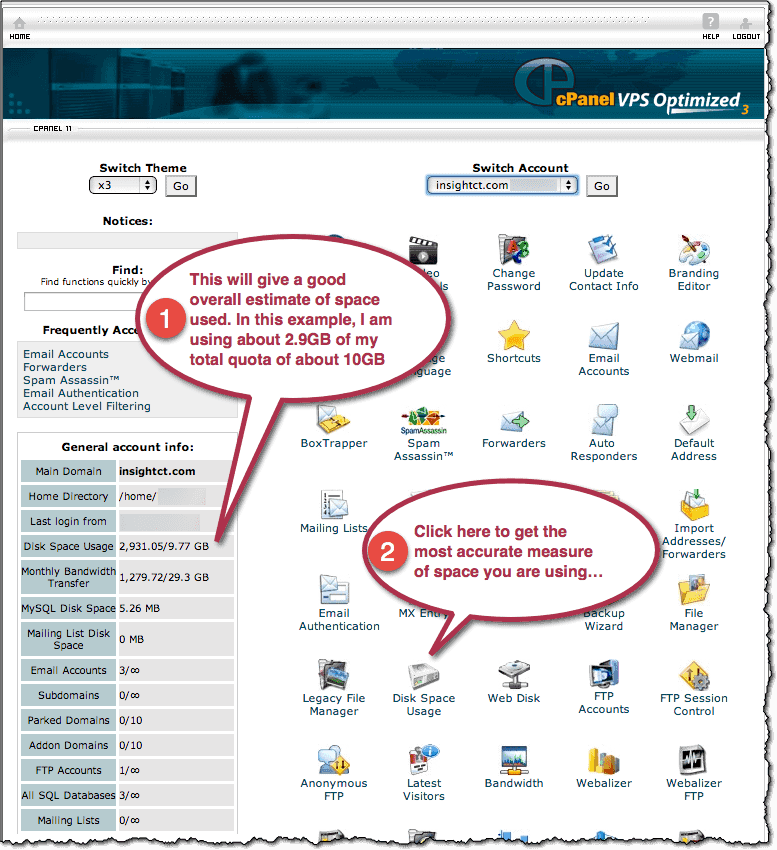 This means I would want to get new hosting that gives me at least 3 GB of free space in total and preferably double the amount I am using, about 6 GB in this case, to accommodate future growth of both e-mail and my website.
In fact, it would be a very bad idea to get an account that only had 3 GB of total free space (in this example) because there might not even be enough room to migrate the existing account into place. I would definitely want to have a minimum of 6 GB of storage space in order to migrate this account—10 GB would probably be a good target to accommodate the migration and future growth.
If you don't currently have a website and are only using the email feature of your hosting, or if you do have a website, but it's only a few pages and images, your total required space may be fairly small. This is why it's important to check your space needs so that you don't end up buying a great deal more than you actually need or can use.
How Do I Know if the New Hosting Company is Compatible with My Migration Files?
If you are currently hosted on the Insight Creative Tech server, you are using what is called cPanel and you would want to look for a new hosting company that also uses the cPanel interface. If the new hosting is using this interface, it makes it easier and faster to migrate your website and e-mail to that new server.
Also, if you have used the cPanel hosting interface in the past to manage your account, this will mean you'll be familiar with the new web hosting company's interface for managing your website, e-mail, etc.
What Information Do I Need to Give My New Hosting Company?
For the most part, all you will need to give your new hosting service is the username and password for access to your cPanel account. They will be able to login and create what is called a full backup of everything, including your website and e-mail, and use that file to migrate you to the new server.
Example of information to give the new hosting company…
cPanel Login Address: http://host.domain.com/cpanel
cPanel user name:  XXXXXXX
cPanel password: XXXXXXX
IP address of server: xx.xx.xx.xxx
If you're using the Insight Creative Tech hosting service and you can't find or don't know your cPanel login information, just send a request via email and I'll be glad to send that to you separately via a link to a secure document.
In general, you can usually find this information in the welcome email your original hosting company sent you when you first signed up. It's very important to keep all official email messages from your hosting company, especially your welcome email that contains account numbers and access addresses.
Special Liquid Web Deal for Insight Creative Tech Hosting Subscribers*
I was able to secure a special coupon code with Liquid Web which is good for everyone who is currently an Insight Creative Tech hosting client, or a subscriber here at the blog.
When you sign up and use the coupon code NEWINSIGHT in the information/other instructions box near the end of your registration process, you'll get your first month free. Be sure to mention that you are requesting the first month free deal with the NEWINSIGHT coupon code so they can enter you into the system and get you your credit.
With this code, you can spend the time you need to migrate and test the new service out to be sure it's right for you and you won't be charged until the beginning of the second month of service. Let me know if you have any questions at all about this. Click here to go to Liquid Web and review their hosting plans…
Hosting Alternatives
HostGator—Time to Wait and See Now…
While I have recommended HostGator in the past and still have an account with them, I'm currently maintaining a "wait and see" approach since they were recently acquired by a company that has a reputation for lowering the bar with service and support amongst their other acquisitions. This doesn't mean it will be the same for sure, but it's an unknown quantity for now.
Basically, the company that bought HostGator, EIG, own a ton of other web hosting companies, many of which have received complaints from their customers since EIG acquired them. You can see a mostly complete list of EIG companies on Wikipedia and I am avoiding all of them for now. It may be that everything stabilizes eventually, but I'm waiting to see.
This includes, Bluehost, A Small Orange, FatCow, HostMonster and many others.
This doesn't mean that all these companies are poor options by definition, but ever since the big EIG-owned hosting outage in Aug. 2013, everyone in the industry is keeping a wary eye out for further developments and I prefer to look elsewhere until things are more settled.
Half the Price, But Here's Why
HostGator is about half the price of Liquid Web and includes  large storage and account resources. However, as you have already learned, there's very little likelihood that you'll actually need unlimited disk space and unlimited email addresses, or MySQL databases, so these are actually irrelevant features to look for when it comes to evaluating a hosting service.
The real issue is support and the question is, will someone be there when you need them and how long does it take to get something fixed once it breaks. Everything breaks, BTW, but you knew that already.

Currently, I've experienced support request response times averaging about 3-4 times longer with HostGator than with Liquid Web. In some cases I've had to wait about 24 hours to get a reply to my ticket at HostGator. To be fair, HostGator was accurate and completely solved my problem, it just took a while. Liquid Web usually replies to tickets within about 10-15 minutes at most—many times much faster.
While you can call both HostGator and Liquid Web via toll-free numbers, Liquid Web has responded and resolved my tickets much faster every time.
I am also hesitant to recommend HostGator only because it's not a known quantity anymore and I can't be certain it will not decline in quality over the course of the coming years. At the end of the day, if my email or website is down, I want it back in action as fast as humanly possible. It's well worth it to me to pay a little extra to work with a company whose support has been consistently amazing  over the last 9 years.
If you're  keen to give HostGator a try, I do have a coupon code that will get you 25% off either your first month or your total checkout price. You can get my HostGator coupon at the bottom of my Web Hosting Report page. [My HostGator coupon code is an affiliate code which will compensate me and help us both defray costs—thanks for using it!]
Still Testing One Other Hosting Company
I'm currently testing one other possible hosting company to recommend, but results are still incomplete. I'll follow this post with a review and recommendation, if it's warranted, next week.
As ever, no question is too small so please feel free to ask me about it in the comments and let's talk about it!
-Zack
[*Note that as part of my agreements with Liquid Web and HostGator, I will be compensated if you use my coupon code and this helps defray some of the expense of shutting down my server and answering questions on this blog, but this will not affect the cost or quality of your service with Liquid Web and does not affect my choice to recommend Liquid Web or any other company. I am primarily recommending Liquid Web because that's where ICT customers are already hosted and this migration path represents the least disruptive option with the highest quality support service I can currently find.]